Free Shipping Australia Wide
ON ALL PRODUCTS
Fast Turnaround Time
We specialise in urgent printing
Lowest Price Guarantee
NO HIDDEN CHARGES
Get your printing in 4 Quick and Simple Steps
Letterheads
Get an instant Price Check
$100.00
SKU:

04428
Category: Offset & Digital Printing
Tags: A4 letterhead printing, albaster material letterheads, bonding material letterheads, Business letterhead printing melbourne, Business letterhead printing Perth, business letterhead printing Sydney, Cheap letterhead printing Melbourne, CMYK Letterheads, custom Letterheads Printing, Debossing letterhead printing Melbourne, Double sided letterhead printing Melbourne, Embossing Letterheads printing melbourne, Foil Stamping letterheads, full color Letterheads Printing, kraft paper letterheads, Letterhead, Letterhead printing Adelaide, Letterhead printing Melbourne, Letterhead printing Sydney, Letterheads Printing.
Letterheads Printing Australia
Letterheads are designed for organization, schools, colleges and companies that contain all the information, so that the reader can remember the details of the sender. Letterhead helps in business dealings or correspondence in an efficient way.
Most Important Benefits of Letterheads are:
Used to help in making official communication with the clients
Most important tool of marketing.
Involved in every level of the business, HR, contracts, operations, legal, finance etc.
Convey the actual impression, credibility and experience.
Moreover Dino Print provide high quality letterheads printing services in Australia wide. We have different options available, i.e. Albaster Stock, Linen Stock, Bright White Stock and Cotton Blend, in two different sizes 8.5″ * 11″ and 8.5″ * 14″.
We take minimum order as low as 50 prints. Please check the calculator for ordering Letterhead printings. Place your order today and Feel free to Call or write to us for any information on the products and orders. We are happy to help you.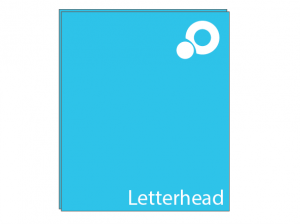 Dino Print provide free shipping and design for each product in Queensland, Sydney, Melbourne, Adelaide, Perth, Brisbane or all over Australia.