Guide to Designing a Menu
How To Make a Menu
Your menu is one of the most crucial marketing tools if you're in a food service business. Most customers expect any seated food establishment to offer a menu for their perusal. Here are some tips to help you establish the perfect menu for your restaurant business.
Stand Out With Typography
An effective font style can take you a long way. Explore the different font styles that go well with your brand image. Bold typefaces make a great impact for menu items, while italics can serve as an effective heading for your descriptive copy. It is important to make sure that the text is clear and easy to browse through. Also note that color psychology can play a role in consumer behaviour – in the case of food, red, yellow and green are images that are easily associated with food while blue tends to curb appetite.
Use Images Sparingly
High-end restaurants are careful not to overdo it with food photography. They also invest in producing high-quality images to bring out the maximum appeal in their dishes. These establishments refrain from putting in images for every item to avoid making them appear like low-end fare or catalogue items. Furthermore, not providing images will allow consumers to use their imagination and increase expectations on how the dish will turn out.
Pay Attention to Layout and Placement
There are different studies when it comes to a consumer's behaviour in browsing menus and similar items. For example, some studies say that consumers often focus on the centre of a menu, while some read it from left to right. This provides a clue on how you should place your menu items, such as specials and exclusives.
It is also wise to arrange and separate menu items according to groups, like entrees, main courses, and desserts. Giving them larger headlines or dividing them into boxes or pages is also one way to ease the process.
Avoid Emphasising the Prices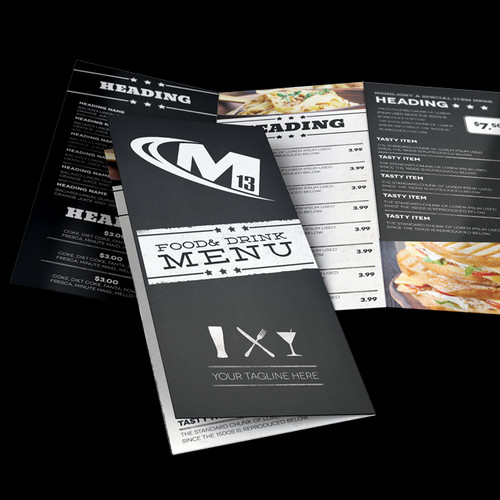 Many consumers tend to be conscious of prices and we want to avoid that. Many food service businesses use a lighter and smaller typeface for prices in order to avoid placing emphasis on them.
There are also restaurants who do not place currency symbols as a strategy, as consumers tend to be less conscious without them. Another effective approach is not aligning the prices through clever layout, so that customers won't be able to compare them easily and select the cheapest item on the list. Lastly, it is wise to avoid arranging menu items by cheapest to priciest for the same reason.
Need more menu design tips? Need to print out a menu quickly? Visit a Dino print branch to see what they can do!